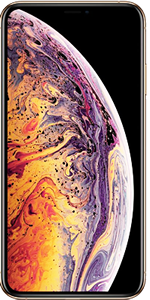 Stay Mobile in Japan
Order Express Shipping by 3pm Japan Time, Monday-Saturday, and receive your item the NEXT DAY!
5% OFF COUPON for All SIM Card. Enter coupon code: SIM11
SIM Card Rentals: The Secure Option
Prepaid SIM Cards offer price and convenience, but issues arise when it comes time to configuring the settings. So many people nab an expensive airport Prepaid SIM card, only to encounter problems with an area lock, frequency, or network coverage. But with rental SIM Cards, you can rest assured knowing you'll have full support getting and staying connected. And if you have issues with the area or your phone compatibility, guaranteed refunds, no questions asked!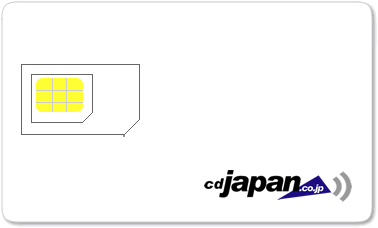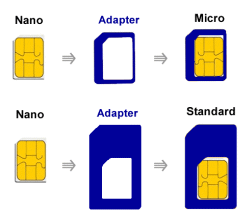 *Nano to Micro /Standard adapter available upon request. Please leave a message in the box on the order page.
High-speed, Nationwide, Unlimited
350MB/day
256Kbps after 350MB/day
110MB/day(First Day 220MB)
200Kbps after 110MB/day
Rentals include a card holder for protecting your SIM and a pin for installation and removal.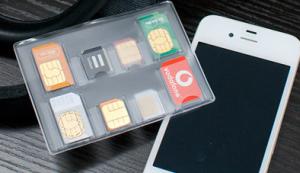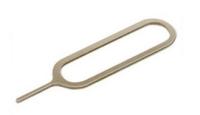 Advantages of Renting with CDJapan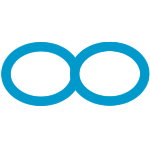 Unlimited data usage
Truly unlimited data, and no extra fees.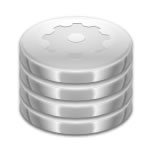 Easy setup, no activation required
Android:
Change the APN setting internally
iPhone:
Download and install the APN profile with our link
and you're ready to go online!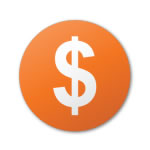 The best value in Japan!!
Starts from 1400JPY for 5 days for unlimited data usage.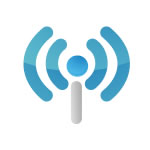 Fast and stable LTE service
Reliable service provided by NTT DOCOMO with 100% coverage. Maximum download speed of 260Mbps.
To use a CDJapan SIM card you need an unlocked smartphone that is compatible with 3G/LTE Band 1(2100MHz) and 19 (800MHz).
Unlocked devices are not blocked by a specific operator for use with other operators (usually this happens when you purchase your phone through your service provider)
To use our SIM card with your phone, you will need to configure the APN(Access Point Name) setting. If you have an android device, we'll give instructions for manually creating a new APN. If you have an iPhone or apple devices, you will download the profile with Safari install the APN profile.
Make sure to delete the APN after use to ensure you can use your phone with other SIM Cards!
For the details on how to set the APN, please check the following page: SIM Card APN Setting
If you're worried about SIM compatibility, we recommend you rent a Pocket Wi-Fi instead of a SIM card. Pocket Wi-Fi works with any Wi-Fi enabled device. (See our mobile wi-fi plans: Mobile Wi-Fi Rental)
Extend your rental period easily from My Page anytime before the return date.
Extension packages will be available for purchase once the package is sent out.
Check rates here: Extend Rental Period
Refund
If you are unable to use the SIM, post the item back within 2 days of the start date with the refund request slip enclosed in the package. Refunds will be calculated by deducting the following:

Handling fee: 300 yen/SIM
Shipping: 540 yen/order
*Express shipping fee is non-refundable.
Cancellation
Full refunds are given when an order is cancelled 5 days or more prior to the start date. Partials refunds will be issues for later cancellations.
For further details, please read the following page: Refund and Cancellation


1

Order

2

Payment

3

Delivery

4

Return

* Once the payment is completed, a confirmation email of your order payment will be sent.
* Once your package is sent out, a delivery information email with the tracking number of the package will be sent.
* A reminder email will be sent few days before the return date.


All Rental Items are received and returned by mail.
Choose the best way for you from the options below.
Pick up your package from Japan Post Office in the airports.
Pick up your package from any Japan Post Office in your neighborhood.
Get your package delivered to your Hotel and collect it when you check in. (Please ask the hotel before ordering.)
Get your package delivered to your residence, airbnb or office. It's going to be posted in the mailbox. (Please ask your host/resident before ordering.)
Please read the following page carefully for the details. How to Receive the Rental Items
Post Offices at the Airports: Location and Opening hours
| | | | | |
| --- | --- | --- | --- | --- |
| Narita Airport Terminal 1 | 8:30 - 20:00 | Everyday | 4F: Departure Lobby | MAP |
| Narita Airport Terminal 2 | 8:30 - 20:00 | Everyday | 3F: Departure Lobby | MAP |
| Narita Airport Terminal 3 | N/A | N/A | Please use the post office in Terminal 2. | MAP |
| Kansai(KIX) Airport | 9:00 - 17:00 | Everyday | Terminal 1, 2F South | MAP |
| Chubu(Centrair) Airport | 9:00 - 17:00 | Weekdays Only | 1F | MAP |
| New Chitose (Hokkaido) Airport | 9:00 - 17:00 | Everyday | 2F: Arrival Lobby | MAP |
| Haneda Airport(Domestic) | 9:00 - 17:00 | Weekdays Only | Terminal 1, 1F (Domestic) | MAP |
IMPORTANT
*Please make sure you allow yourself plenty of time to collect the package. We recommend you choose this option only if your flight is scheduled to arrive early enough before the closing time of the post office, in case the flight delays.
*This service is currently available only at the airports listed above.
*Please make sure you enter your PASSPORT NAME as the recipient of the package. You will need to present your passport to collect the package at the airport post office. When the name is different, they will not release the package.
All Rental Items are received and returned by mail.
Put the items in the prepaid return envelope we provide. You don't need to buy stamps.
Drop the envelope into the red mailbox anywhere in Japan by the midnight the return date.
Our service is rental. All items including SIM cards need to be posted back on the last day of your rental.
Late charges will be applied if you do not post the return envelope on the return date. We will check the postmark on the envelope as well as the data usage history.
You may be able to find the red mailbox on streets and in the airports.
*At the airports, there are no mailboxes after you pass the security check. Please make sure you post it before you proceed to the security check.
*In some terminals in the airports, there may be no mailbox. Please check the official website of the airport terminal you are going to use.
Please read the following page carefully for the details. How to Return the Rental Items
540 JPY
Flat rate for every single order.
No return fee. Return envelope will be provided.
One return envelope provided per order.
*If you order multiple items with different return dates, one envelope per each return date will be provided.
*Unless the return dates are different at the time of your order, we will provide only 1 return envelope.
Max. 2 wi-fi units, 5 SIM cards per order.