| | |
| --- | --- |
| We are flexible! | You can receive some refund when our SIM card was not compatible with your device (see Refund and Cancellation). You also have an option to extend the rental period (see Extend Rental Period). |
| Easy to get connected! | You don't need to activate the card. For android devices, just manually change the APN settings of your device. For iPhones, download the APN profile from our website and install it, and you're ready to get online. |
| Unlimited data! | Our SIM card is for DATA ONLY(no phone number), and you cannot make or receive phone calls or use SMS. However, our SIM has no limit on the data usage, which will allow you to use apps like Skype, WhatsApp and LINE as much as you want to make free calls and chat. |
| Fast and stable connection! | The maximum download speed is 260Mbps and the maximum upload speed is 50Mbps. The connection speed will be reduced to 200Kbps/256Kbps once the data traffic volume exceed 110MB/350MB per calendar day, however, it is reset at 12:00am. |
| Easy collection and return! | You can have the package delivered to the hotel/resident you'll be staying or you can collect it at any post office in Japan including the ones at the airport upon arrival. To return it, just put the SIM in the prepaid return envelope we provide and drop it into a post box anywhere in Japan. (SIM card is a rental item, it needs to be returned.) |
| SIM card holder and SIM pin! | You will receive a SIM card holder to keep your SIM safe while you use our SIM (needs to be returned). A SIM card tray eject pin is also included in the package. |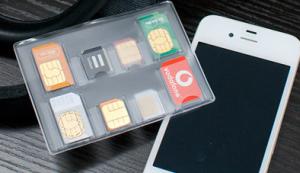 Fast, Anywhere, Unlimited
350MB/day
256Kbps after 350MB/day
*Nano to Micro SIM card adapter available upon request. Please write "adapter" in the message box you see on the order page.
Order
60 days ¥13000 (¥217/day)
Order
90 days ¥15500 (¥172/day)
Order
180 days(Approx. 6months)
¥24800 (¥138/day)
How do I know if my smart phone is compatible?
Your device must be unlocked (check with your retailer if you are not sure) and must be able to connect to the networks that match our SIM card. The tested compatible devices are listed on the following page: Compatible Devices. Links to our blog explaining how to check the compatibility can be found on the same page.
Is it really unlimited?
Yes, our service allows you to have unlimited access to the Internet. However, the connection speed will be reduced until 12am once the data traffic volume exceeds 110MB(220MB on the first day)/350MB(the high speed data amount is different depending on the package) that day. After 12am, the counter is reset.
What can I do with 110MB a day?
You can do all of these within 110MB data. (Estimate)
- Surf the web:100 web pages
- Message app (LINE, Whatsapp, etc): 100 messages
- Email: 20 messages
- Facebook: View 100 updates on the news feed

110MB is not sufficient to watch Youtube(normal quality). You will finish high speed data if you watch a video for more than 20min.
Check how to save data on GetAroundJapan: How to Save Data on Smartphone While Traveling
How fast is the speed?
Theoretical maximum speed is 260Mbps(best effort). The actual speeds will vary depending on the time and location and are not guaranteed.
None of the packages suit the period I need.
Please pick one from the packages that are available. If none of the packages suit the period you need, you can either extend the rental later or simply get a longer package and return it a little early. For example, if you need it for 8 days, you can buy 7 days package now and extend 1 day later, or buy 10 days package. Tips: Depending on the period you need, it could be cheaper to get a longer package. For example, if you need it for 9 days, it is cheaper to get the 10 days package than the 7 days+2 days extension. Please compare the prices and pick the best option for you. Check the extension rate on the following page: Extend Rental Period
I am going to visit different prefectures in Japan. Will I have the internet everywhere I go?
Our SIM card uses Docomo network, which is the best in terms of coverage among all mobile phone networks in Japan. However, it is up to your device whether it can make full use of it or not. If your device supports all of the following bands, you will have stable internet pretty much everywhere you go: 3G/LTE Band 1 (2100MHz), 3G/LTE Band 19 (800MHz), and LTE Band 21 (1500MHz).
Can I use messaging apps such as Whatsapp, LINE, and facebook messenger?
Yes. Your account will work even if you change the SIM card.(When you insert a new SIM card and start an app, you might be asked to "Change Number", but just ignore the message and proceed.) IMPORTANT: If you don't have an account yet, please create one before coming to Japan. Our SIM is data SIM, therefore you cannot create a new account with apps that require a phone number for verification.
Will tethering/hot spot work?
Yes and no. Our SIM card itself does not restrict tethering, however, with some devices it does not work even if the device itself supports tethering/hotspot feature. We don't have information on what works and doesn't, so if you are planning to use the feature, please be aware that there's a chance it may not work.
How is the rental days counted?
The rental start date you choose is the first day of your rental period. For example, if you choose January 1 as the start date, Jan. 1 is the Day 1. If you are buying 5 days package, the rental would end on Jan. 5th, which is the Day 5. Data should be used only until the last day and return package must be posted by the night on the last day. (We check both data usage and the posted date.)
For more FAQ and answers to them please check the following page: FAQ.
What is a SIM card? A SIM card is a small chip inserted in a smartphone that allows the device to get access to a mobile network. You can still use your phone overseas without swapping the SIM card, however, international roaming charges will be applied, which are not cheap. By changing the SIM card to the local mobile operator's, you can keep your device online economically.
What you need to use a CDJapan SIM card An unlocked smartphone that is compatible with 3G/LTE Band 1(2100MHz) and 19 (800MHz).
Unlocked devices mean they are not locked by a specific operator. If you buy devices directly from a particular operator, they are locked by the operator. Also, the devices that indicate a specific operator's name are most likely locked.
To use our SIM card with your phone, you will need to configure the APN(Access Point Name) setting. It does not work automatically. If you have an android device, you will create a new APN by entering the information we provide manually. If you have an iPhone or apple devices, you will download the profile using Safari browser and install the APN profile.
If you're going to use iPhone, please delete our APN profile once you have finished using our SIM card. If you don't delete it, your own SIM card outside Japan may not work properly.
For the details on how to set the APN, please check the following page: SIM Card APN Setting
If you are not sure if your phone is unlocked, or if you are not familiar with changing a SIM card, we recommend you rent a mobile wi-fi instead of a SIM card. Using a mobile wi-fi is very easy and it will work with any wi-fi enabled devices. (See our mobile wi-fi plans: Mobile Wi-Fi Rental)
You can extend your rental period easily from your My Page, anytime until the return date.
Extension packages will be available for purchase on your My Page once the package is sent out.
Check the rate on the following page: Extend Rental Period
Refund
If your device was not compatible with our SIM card, post it back within 2 days from the start date with the refund request slip enclosed in the package (the postmark date will be considered proof). When the SIM card is posted back within 2 days, the charge will be the minimum amount as below and the balance will be paid back to your credit card.

Handling fee: 300 yen/SIM
Shipping: 540 yen/order
*Express shipping fee is non-refundable.
Before ordering, please read the following page carefully: SIM Card Compatibility.
To use our SIM card, your phone must be unlocked. As long as your device can connect to 3G/LTE Band 1 (2100MHz), you will have internet access in most parts of Japan except in mountain area. In addition to 3G/LTE Band 1, the coverage will be wider and the speed will be stable if your device supports 3G/LTE Band 19 (800MHz) and LTE Band 21 (1500MHz).
Cancellation
We issue a full refund when an order is cancelled 5 days or more prior to the start date. There are some charges for the cancellation made later than that. The balance will be paid back to you.
For more details about Refund and Cancellation, please read the following page: Refund and Cancellation


All Rental Items are received and returned by mail.
Choose the best way for you from the options below.
Pick up your package from Japan Post Office in the airports.
Pick up your package from any Japan Post Office in your neighborhood.
Get your package delivered to your Hotel and collect it when you check in. (Please ask the hotel before ordering.)
Get your package delivered to your residence, airbnb or office. It's going to be posted in the mailbox. (Please ask your host/resident before ordering.)
Please read the following page carefully for the details. How to Receive the Rental Items
Post Offices at the Airports: Location and Opening hours
| | | | | |
| --- | --- | --- | --- | --- |
| Narita Airport Terminal 1 | 8:30 - 20:00 | Everyday | 4F: Departure Lobby | MAP |
| Narita Airport Terminal 2 | 8:30 - 20:00 | Everyday | 3F: Departure Lobby | MAP |
| Narita Airport Terminal 3 | N/A | N/A | Please use the post office in Terminal 2. | MAP |
| Kansai(KIX) Airport | 9:00 - 17:00 | Everyday | Terminal 1, 2F South | MAP |
| Chubu(Centrair) Airport | 9:00 - 17:00 | Weekdays Only | 1F | MAP |
| New Chitose (Hokkaido) Airport | 9:00 - 17:00 | Everyday | 2F: Arrival Lobby | MAP |
| Haneda Airport(Domestic) | 9:00 - 17:00 | Weekdays Only | Terminal 1, 1F (Domestic) | MAP |
IMPORTANT
*Please make sure you allow yourself plenty of time to collect the package. We recommend you choose this option only if your flight is scheduled to arrive early enough before the closing time of the post office, in case the flight delays.
*This service is currently available only at the airports listed above.
*Please make sure you enter your PASSPORT NAME as the recipient of the package. You will need to present your passport to collect the package at the airport post office. When the name is different, they will not release the package.
All Rental Items are received and returned by mail.
Put the items in the prepaid return envelope we provide. You don't need to buy stamps.
Drop the envelope into the red mailbox anywhere in Japan by the midnight the return date.
Our service is rental. All items including SIM cards need to be posted back on the last day of your rental.
Late charges will be applied if you do not post the return envelope on the return date. We will check the postmark on the envelope as well as the data usage history.
You may be able to find the red mailbox on streets and in the airports.
*At the airports, there are no mailboxes after you pass the security check. Please make sure you post it before you proceed to the security check.
*In some terminals in the airports, there may be no mailbox. Please check the official website of the airport terminal you are going to use.
Please read the following page carefully for the details. How to Return the Rental Items
540 JPY
Flat rate for every single order.
No return fee. Return envelope will be provided.
One return envelope provided per order.
*If you order multiple items with different return dates, one envelope per each return date will be provided.
*Unless the return dates are different at the time of your order, we will provide only 1 return envelope.
Max. 2 wi-fi units, 5 SIM cards per order.