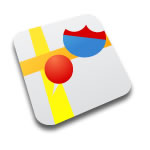 Go online anywhere and anytiime
Smooth internet connection anywhere and anytime.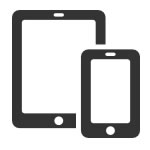 Works with any Wi-Fi enabled devices
It will be the personal Wi-Fi hotspot for your smartphones, tablets, and laptops.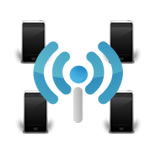 Connect multiple devices simultaneously
Share the device with your friends.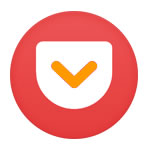 Light and Compact
Put it in your bag or pocket and bring along wherever you go.
| | |
| --- | --- |
| Unlimited data usage! | Use as much as you want without worrying about extra fees. |
| Affordable price! | E.g. 5 day-plan for 2750 yen, 30 day-plan for only 6000 yen. |
| Easy to use! | Of course, the device is already charged when you receive it. You can get online within few minutes once the package is with you. |
| Secure network! | Each device will come with its network ID and unique password. It is secure compared to free wi-fi. |
| Easy pickup and return! | The mobile Wi-Fi router will be delivered to your hotel, residence, office, or to the airport post office for your collection. To return it, put the item in the prepaid envelope we provide and drop it into a postbox anywhere in Japan. |
A mobile wi-fi or pocket wi-fi is a small palm-size portable device that works as your personal hotspot. All wi-fi enabled devices such as smartphones, tablets, and laptops are able to get online via a mobile wi-fi.
Our mobile wi-fi comes with a charging cable and an AC adapter. The estimate battery life of each device are 5 to 10 hours depending on the model and the usage. If you are going to be out all day, bringing along a portable charger/power bank may give you peace of mind. (Rent Portable Charger together!)
It is very easy to use. Let's say you want to get your smartphone online using a mobile wi-fi.
Turn on the mobile wi-fi device.
Go to "wi-fi" on your smartphone, and choose the SSID (the network name) of your mobile wi-fi.
You are asked to enter the password, so enter that.
Your phone is online!
*The SSID and the password of your device will be enclosed in the package.
*1. The signal may be weak or out of service in weak signal area (in the car, underground, in the tunnel, narrow rows of buildings, mountain-ringed region, etc) even within the service coverage area.
*2. The coverage area of the network used for this plan is the largest among all Japanese telecom companies.
*3. The advertised battery life specifications are estimated times only and will vary depending on usage. To make the battery last longer,
Keep the power off when not in use.
Do not keep the device in your pocket for too long. The heat produced from friction and body temperature will use up the battery. Keep the device in a cool spot like in your bag.
When you use the device in weak signal areas, the battery will die quickly as it uses as much power as it has to transmit the power. In other words, you can save your battery by using it in areas with strong signal.
When you use the device in cold temperature like in snow, the battery cannot make use of the power and it may not work at its best. (It doesn't mean it uses up the battery fast. Try to use it in the normal temperature.)
I don't know if I should get Standard Speed or High-Speed package.
If you are going to visit different prefectures in Japan including Hokkaido, Kyushu, Okinawa, and also suburbs like Koyasan, Shirakawago, Hakuba, and etc., Standard Speed device is recommended since their network is the best in terms of coverage. However, please note that it is designed for light use; if you watch movies or download and upload big files, you will use up the daily high-speed quota(110MB) easily. If you want to use a lot of data and you will be in the urban area most of the time, High-Speed device will be handy.
Is it really unlimited?
Yes, our service allows you to have unlimited access to the Internet. However, the speed will be slow once a certain amount of data is used. For Standard Speed Wi-Fi, that is when 110MB is used per calendar day, which is reset every midnight. For High-Speed Wi-Fi, that is when 10GB is used within the most recent 3 days. The speed will be limited to 1Mbps during the peak hours (roughly between 6pm-2am) the next day.
What can I do with 110MB a day? (Standard Speed Wi-fi)
You can do all of these within 110MB data. (Estimate)
- Surf the web:100 web pages
- Message app (LINE, Whatsapp, etc): 100 messages
- Stream Youtube: 30 minutes
- Email: 20 messages
- Facebook: View 100 updates on the news feed

None of the packages suit the period I need.
Please pick one from the packages that are available. If none of the packages suit the period you need, you can either extend the rental later or simply get a longer package and return it a little early. For example, if you need it for 8 days, you can buy 7 days package now and extend 1 day later, or buy 10 days package. Tips: Depending on the period you need, it could be cheaper to get a longer package. For example,if you need it for 9 days, it is cheaper to get the 10 days package rather than buying 7 days package and extending 2 days. Please check the prices and pick the best option for you. Check the extension rate from the following page: Extend Rental Period
For more FAQ and answers to them please check the following page: FAQ.
You can extend your rental period easily from your My Page, anytime until the return date.
Extension packages will be available for purchase on your My Page once the package is sent out.
Check the rate from the following page: Extend Rental Period
Refund
Just in case the wi-fi device didn't work well in your location, we offer an option to return the item for a refund. Please contact us and post back the items within 2 days from the start date if you wish to get a refund. *Express shipping fee is non-refundable.
Cancellation
We issue a full refund when an order is cancelled before 5 days or more prior to the start date. There are some charges for the cancellation made later than that. The balance will be paid back to you.
For more details about Refund and Cancellation, please read the following page. Refund and Cancellation

Choose the best way for you from the options below.
Pick up your package from Japan Post Office in the airports.
Pick up your package from any Japan Post Office in your neighborhood.
Get your package delivered to your Hotel and collect it when you check in.
Get your package delivered to your residence, airbnb or office. It's going to be posted in the mailbox.
Please read the following page carefully for the details. How to Receive the Rental Items
Post Offices at the Airports: Location and Opening hours
| | | | | |
| --- | --- | --- | --- | --- |
| Narita Airport Terminal 1 | 8:30 - 20:00 | Everyday | 4F: Departure Lobby | MAP |
| Narita Airport Terminal 2 | 8:30 - 20:00 | Everyday | 3F: Departure Lobby | MAP |
| Kansai(KIX) Airport | 9:00 - 17:00 | Everyday | Terminal 1, 2F South | MAP |
| Chubu(Centrair) Airport | 9:00 - 17:00 | Weekdays Only | 1F | MAP |
| New Chitose (Hokkaido) Airport | 9:00 - 17:00 | Everyday | 2F: Arrival Lobby | MAP |
| Haneda Airport(Domestic) | 9:00 - 17:00 | Weekdays Only | Terminal 1, 1F (Domestic) | MAP |
IMPORTANT
*Please make sure you allow yourself plenty of time to collect the package. We recommend you choose this option only if your flight is scheduled to arrive early enough before the closing time of the post office, in case the flight delays.
*This service is currently available only at the airports listed above.
*Please make sure you enter your PASSPORT NAME as the recipient of the package. You will need to present your passport to collect the package at the airport post office. When the name is different, they will not release the package.
Put the items in the prepaid return envelope we provide. You don't need to buy stamps.
Drop the envelope into the red mailbox anywhere in Japan by the midnight the return date.
Our service is rental. All items including SIM cards need to be posted back on the last day of your rental.
Late charges will be applied if you do not post the return envelope on the return date. We will check the postmark on the envelope as well as the data usage history.
You may be able to find the red mailbox on streets and in the airports.
*At the airports, there are no mailboxes after you pass the security check. Please make sure you post it before you proceed to the security check.
*In some terminals in the airports, there may be no mailbox. Please check the official website of the airport terminal you are going to use.
Please read the following page carefully for the details. How to Return the Rental Items
540 JPY
Flat rate for every single order.
No return fee. Return envelope will be provided.
One return envelope provided per order.
*If you order multiple items with different return dates, one envelope per each return date will be provided.
Max. 2 wi-fi units, 5 SIM cards per order.